Thursday, August 18th, 2011
Well, things are cruising along at Certain Affinity. I recently finished working on our latest title, Crimson Alliance, which comes to XBLA on 9/7. Go check it out. It's a fun, Gauntlet-type adventure through a brand new fantasy world. My part on the title was chiefly graphics and particles, and I'm pretty pleased with what we were able to do, given our constraints.
I don't think I can ever completely remove myself from creating art or writing code entirely, although sometimes I wish I could just to keep things simpler… I was deeply involved in creating particle effects as well as hacking on tools and implementing various systems, like decal generation, threaded particles, and various editors. Oh yea, I'm also growing a crazy mustache: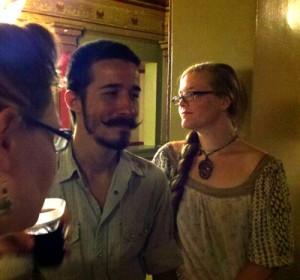 This picture is a little old, so the 'stache is actually a little bigger than this, now. I never thought I'd enjoy being a "facial hair enthusiast," as I've heard myself called, but it's actually a kick-ass thing to wear on your face. It's also a fun social experiment to see how people treat you differently depending on how you look. Most of the time people greet me with pleased excitement, but there are some who seemingly scorn mustaches and who sometimes seem to feel embarrassed for me (aww…). You know, this must be similar to the way normal people feel when they go out dressed like a bum, just to see how people's perceptions are altered. Wait, is it good or bad that growing a mustache is like pretending to be a bum? Ah, well, fuck it.
Anyways, Crimson Alliance. The game's pretty neat, and I'm excited to see public reception that is so overwhelmingly positive. It'll be fun to watch it release.
In closing, I've been moved off of that project onto a larger, unannounced title of awesomeness. I can't talk about it, but suffice it to say that I'm very happy and hard at work.
Next time, I want to tell you about a little game I released a couple of months ago for the iPhone/Android/iPad: Jangle!